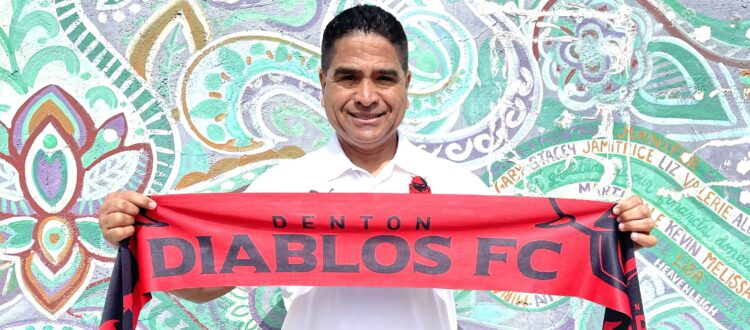 Denton Diablos announce Armando Pelaez as their next Head Coach
DENTON – The Denton Diablos Ownership Group & GM, Brad Namdar, are excited to announce Armando Pelaez as the new Head Coach of the Denton Diablos for their upcoming 2023 season.
Damon Gochneaur, Managing Partner and Owner of the Denton Diablos said, "Our Ownership Group and GM had the opportunity to interview the best coaching candidates in Texas, and Coach Armando Pelaez was the best fit for the Denton Diablos for 2023."
Brad Namdar, GM and Technical Director, stated, "One of our priorities this year was finding a coach that will inspire the ambitions at our club this year, and I am thrilled to be working closely with Coach Pelaez this season."
Armando Pelaez has over 40 years of coaching experience, as well as experience as a professional player, club executive, and advocate for North Texas soccer.
Coach Armando has had the opportunity to coach players like Clint Dempsey, Keaton Parks, Armando Pelaez Jr, Omar Gonzalez, Torres, Lee Nguyen, Nuñez etc.
Coach Pelaez has made his commitment and ambitions at the club this year clear when he said, "I am excited to become the coach of the Denton Diablos FC. When I was approached by Mr. Michael Hitchcock, who is not only well known in US Soccer but also internationally, I knew that this would be a great opportunity to be part of this young, dynamic, passionate and ambitious club. I'm excited to work with our GM and Technical Director, Mr. Brad Namdar whose soccer knowledge is among the top directors nationwide."
Coach Armando holds his USSF "A" License, NSCAA Premier License, United States National Youth Coaching License, The Venezuelan National Coaching License and The CONMEBOL (South American Football Confederation) A License.
Coach Armando also has experience coaching at the College level, and was an Assistant Coach for the MLS Dallas Burn (Now FC Dallas) from 2001 – 2003 and also coached in the USISL (now USL). Coach Armando is one of the NPSL pioneers in Texas leading the Liverpool Warriors to an undefeated season in the South Central Conference.
Prior to joining the Dallas Burn, Coach Armando spent three years as the Owner and Assistant Coach for the Dallas Toros, Texas Toros, and Texas Rattlers of the USL League.
As a former professional player, coach Armando has played for professional clubs in Venezuela, such as; Galicia, Portugués, Táchira, and Marítmo. Coach Armando has also European experience where he stayed at experience with FC Porto in Portugal.
In addition to Armando's coaching, playing, and managing experience, he has international playing experience as he represented the Venezuelan Youth National team from U-15 to U-20 age groups, and then had the honor being a member of the Venezuelan National Team qualifying for the Olympics in Russia.
Coach Armando is fluent in English, Spanish and Portuguese and proficient in Italian.
Think you have what it takes to play for the Diablos? Come out on March 19th to Texas Women's University in Denton and earn a spot from Coach Armando: Denton Diablos Open Tryout.