2022 Premium Season Tickets
$150.00 – $200.00
NOTE: t-shirt size is REQUIRED for every ticket. Also include your address, phone number, and email during checkout.
Description
For the fan who absolutely has to sit as close to the action as possible!  Making a return this year, our Pitch-side Season Tickets give fans the ultimate in intimacy and access, allowing fans to sit on the track at UNT Soccer Stadium, in front of the season ticket holders, and general admission ticket holders, and in front of the bleachers at Denton High School, giving 20 lucky fans the ultimate season seat!
Premium Season Seat Holders will be privy to a closed door practice session prior to our Open Cup Match, a private meet and greet with Head Coach Ramon Raya, and a special gift from the club for 20 lucky fans!
The fourth official year in Diablos history is set to begin this March as the Diablos embark on a historic first entrance to the 107th edition of the US Open Cup. The Diablos clinched qualification thanks to their amazing 2021 campaign which saw them dominate the Lone Star conference on their way to history, hoisting the NPSL National Championship on August 7th 2021 in front of 2500 fans in beautiful downtown Denton, Texas.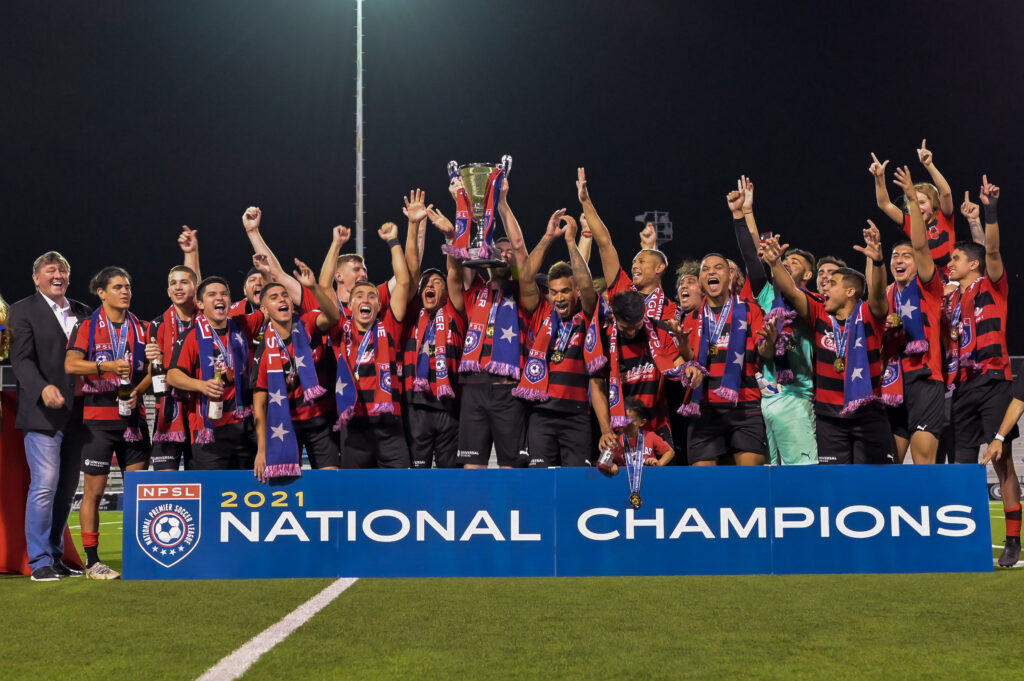 Come help us relive the glory from last year, and make history all over again, with the US Open Cup, an international friendly, and 10 total games included in your ticket package, $150 worth of tickets for only $100! Plus, we're giving all season ticket holders a 2021 NPSL National Championship t-shirt as part f their package. thats $175 worth of value, for only $100!
With every purchase of a 2021 season ticket, you'll receive:
-2021 NPSL Nation Champions T-shirt ($25 value)
-Tickets to 10 total matches in 2022! ($290 value)
Premium Ticket to all 2022 NPSL Home matches (5 games – $200 Value)
Ticket to Irving FC and Fort Worth Vaqueros NPSL away games ($30 value)
Ticket to all 2022 US Open Cup Home matches ($30 value)
Ticket to any international friendlies for 2022 ($30 value)
Private Meet & Greet with Ramon Raya ($25 value)
Access to closed door practice prior to US Open Cup ($25 value)
That's over $365 worth of value for only $200!