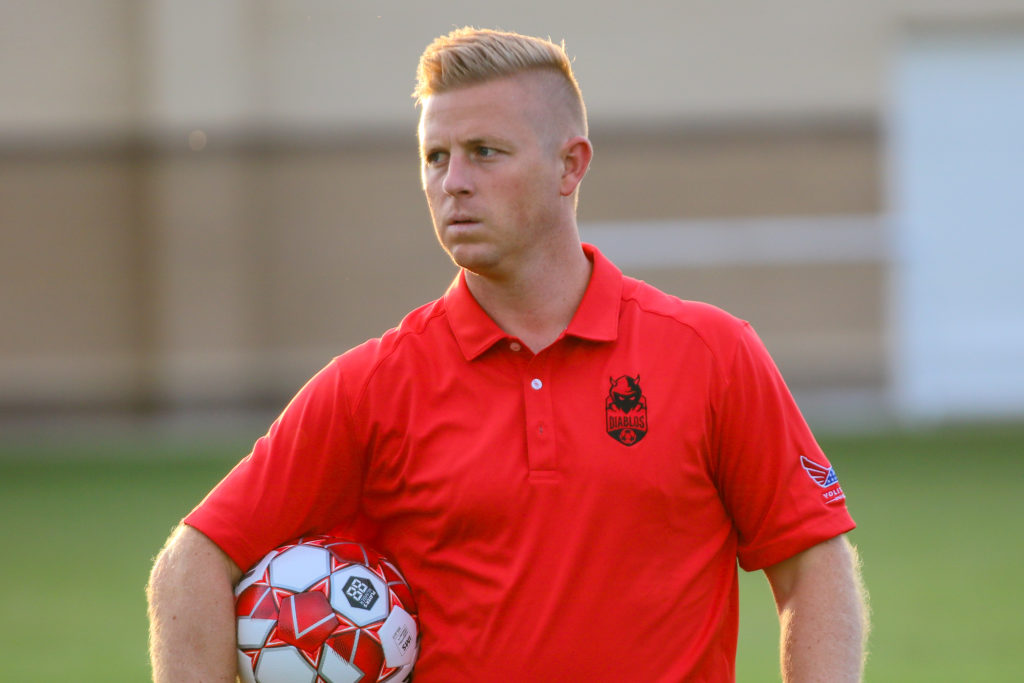 Denton, TX – On Tuesday October 2nd the Denton Diablos names Chad Rakestraw their first head coach in the clubs history. With a rich and storied soccer background in both the D/FW metroplex and in Denton itself, Chad was the perfect choice to help establish the Diablos brand of soccer.
Chad is the current head coach of Flower Mound Marcus High School in southern Denton County where in 2017 he took charge of a program with 26 consecutive seasons of playoff competition. Chad grew up in Grapevine, TX and graduated HS from Denton Ryan HS serving as the foundation for his deep ties to the Denton Community. After high school Chad attended Midwestern State University on a soccer scholarship where he received All conference honors and served as a team captain his Senior season. After finishing his playing career, Chad started his coaching career as an assistant at Denton Guyer HS for 3 years, before  Chad received his first opportunity to be a head coach at Northwest HS 2008, where he helped lead them to their first and only 6A playoff appearance.
In 2011, Chad was given the opportunity to take over the boys Soccer Program at Coppell HS. In the following 6 years, Chad and company won 5 district championships, while playing and competing for the ultimate prize, a State Championship, on three separate occasions. While they didn't win all 3 trips, in 2013 and 2016 Chad and team found themselves lucky enough to hoist the 6A State Championship trophy high above their heads. In Chad's brief 6 year tenure at Coppell High School, he and staff helped send over 25 players to play at the next level including schools like University of New Mexico and SMU. Chad was the birth year 1998 & 1999 NTX State ODP Head Coach, working with future MLS homegrown talents like Reggie Cannon and Paxton Pomykal. In addition, Chad has served as the Region III ODP Staff Coach and a NTSSA license instructor. Chad currently holds a USSF B Coaching License, while also serving as the liaison between our state soccer association, TASCO and the USC (United Soccer Coaches), in addition to serving on the United Soccer Coaches High School Advocacy group as a staff member.
Chad will be the first to admit his greatest accomplishments come far from the soccer pitch in his 12-year marriage to wife Shelley Rakestraw, and his 4 little girls Madison (9), Kamryn (7), and twins Brooklyn and Katelyn (5).
"We couldn't be more thrilled to have Chad representing and leading our club into what is an exciting time in our club's journey" remarked Damon Gochneaur, Denton Diablos co-founder. "Creating a winning culture from thin air is no easy feat, but we know we've got the right person to help us establish a brand of soccer and club identity that any Dentonite or Texan can be proud to call their own."
"It's a tremendous honor to be named the first head coach of the Denton Diablos." remarked Rakestraw. "I am humbled to have the opportunity to lead this club in our first season within the NPSL. It's an exciting time to be a part of growing the game of soccer in the DFW area. There are a lot of great players in the metroplex that this club will give an opportunity to play at the next level."
Starting any team from scratch can prove a formidable task, but when asked about his expectations for their first season Rakestraw had the following to say: "The expectations for our inaugural season are high. We expect to come out and compete with the teams in our conference right away. There's plenty of quality soccer players within Dallas/Ft. Worth. Our success will depend upon our ability to unite and establish a culture that breeds excellence in all we do. The Denton Diablos will show a determined spirit that will inspire the community of supporters!"
Bolstered by a pair of passionate soccer-first investors, the Diablos will compete in the National Premier Soccer League's Lone Star Conference beginning in May 2019.
The Denton Diablos FC will play home matches at UNT's Soccer Stadium.
The Diablos encompass a 50/50 partnership between Aspiro Agency, a Denton-based digital marketing agency owned by Damon Gochneaur and Playbook Management International, a Frisco-based sports management company owned by Michael Hitchcock.
More information about the club can be found at http://www.dentondiablos.com/ or by following the club on Facebook(@DentonDiablosFC), Instagram (@dentondiablosfc), and Twitter (@dentondiablos). Season Seats and official Diablos gear now on sale at www.dentondiablos.com.