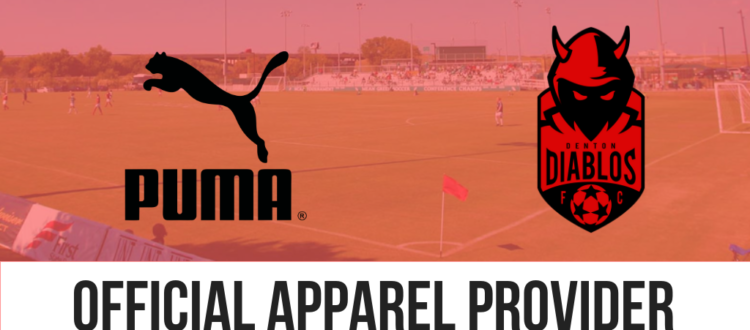 Diablos Partner with PUMA!
DENTON, TX _ Some gear proves so iconic that it leaves a lasting impression on a person such as the way legendary soccer brand PUMA did on Denton Diablos FC owner Damon Gochneaur.
His personal attachment to the world-renowned soccer brand makes the new, 2-year uniform partnership between the Diablos and PUMA a dream-come-true connection for Gochneaur.
"PUMA is an iconic Soccer brand that I've personally loved and worn for over 30 years," Gochneaur said. "I remember vividly purchasing my first pair of PUMA King soccer shoes in the late 80's and the feeling of pride that accompanies wearing them.
"With that being said, I could not be more proud to partner with such an iconic brand that supports soccer at all levels and has been worn by legends in the game, both past and current. We're excited to see how our crest looks next to their powerful logo."
Diablos coach Chad Rakestraw admitted that he too is a fan of the PUMA brand uniforms and gear.
"I'm ecstatic that Puma will provide the Diablos with high quality soccer gear and equipment." Rakestraw said. "Puma is a brand that has a worldwide presence and influence upon the soccer industry. It's important to have a quality brand that provides our players and coaching staff with gear they love to wear."
The Diablos are slated to begin play in the National Premier Soccer League in Spring of 2019. Denton will play its home matches at UNT's Soccer Stadium.
The Diablos encompass a 50/50 partnership between Aspiro Agency, a Denton-based digital marketing agency owned by Damon Gochneaur and Playbook Management International, a Frisco-based sports management company owned by Michael Hitchcock.
More information about the club can be found at http://www.dentondiablos.com/ or by following the club on Facebook(@DentonDiablosFC), Instagram (@dentondiablosfc), and Twitter (@dentondiablos). Season Seats and official Diablos gear now on sale at www.dentondiablos.com