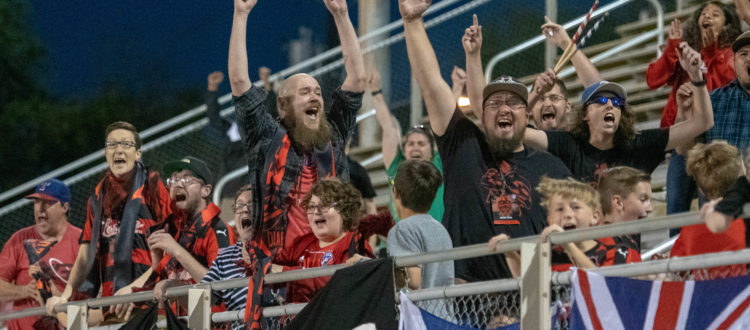 Match Recap – Denton Diablos vs Fort Worth Vaqueros – Chisolm Trail Clasico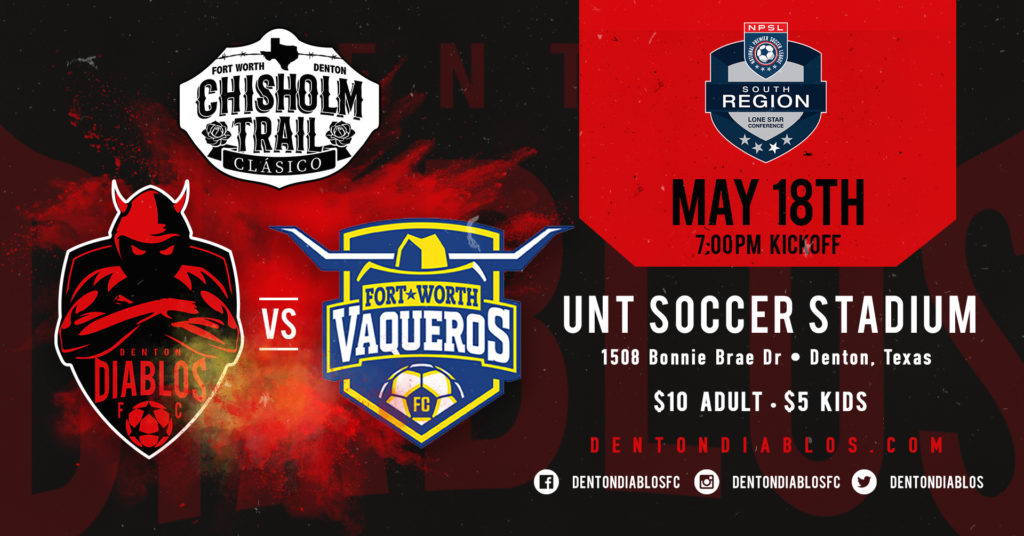 On Saturday May 18th, the Denton Diablos finally kicked off their 2019 NPSL Season. After rescheduling their original home opener due to rain and an unsafe playing surface, the Diablos found themselves yet again battling Mother Nature, and ultimately, were forced to implement their alternative venue plan, moving the game to Denton High School stadium in order to deal with the rain soaked fields.
In spite of the day's gloomy weather and the venue change, over 500 Diablos fans turned out to cheer their team on for 90 minutes, with the Panther City Hell Fire showing up in full force, and were met with our own supporters group, the Harbingers, for 90 minutes of passion and energy, with flags waiving, smoke billowing and chants ringing through the neighborhoods of Denton.
And it didn't take long before both sides would have moments to be genuinely excited for, with Jamie Lovegrove opening the scoring for Fort Worth in the 20th minute. The Diablos were up to the task, answering with our own equalizer in the 29th minute thanks to a Sam Garza penalty, which was good for the first goal in Diablos club history! All the good will was quickly undone by another Jamie Lovegrove goal in the 30th minute. The Diablos went into halftime down 2-1 and looking for some 2nd half magic.
They didn't have to look for long as Jalen James broke free down the left flank early in the 2nd half, slipping a low shot past the keeper and equalizing in the 57th minute. Just 5 minutes later, Nicky Hernandez found some time and space in the middle of the box and calmly converted his chance to send the Diablos into the lead 3-2!
But yet again, the Fort Worth Vaqueros wasted very little time in storming back and knotting things up at 3 in the 66 minute off a Darren Mitchell finish. Before the Diablos could even process their now tied up match, they found themselves yet again picking the ball out of the net, as Cameron Brown's 68th minute goal proved to be the game winner.
While certainly not the result the Diablos were looking for, there's a lot to be proud of and excited about from there debit performance, including but not limited to the play of the Diablos first ever Man of the Match, Nickey Hernandez.
Stay tuned to all the latest Diablos news, notes and announcements by following our Twitter, Instagram and Facebook pages.
Go Diablos!