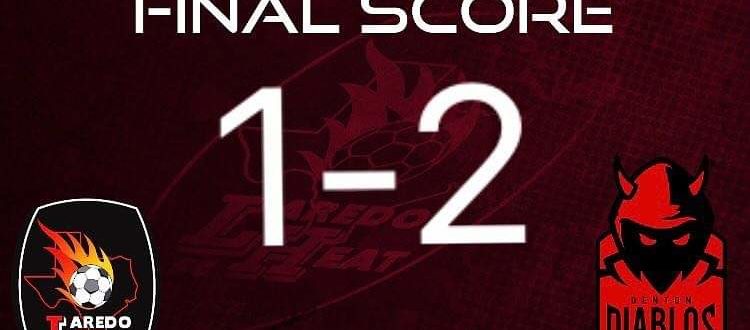 Match Recap – Denton Diablos defeat Laredo Heat!
After opening the 2019 NPSL season with back to back home games, the upstart Diablos ventured out of the friendly confines of Denton High School stadium to head south for their first road trip in club history. At just over 800 miles from Denton to Laredo, Laredo is the farthest from home the Diablos will find themselves this season.
Serving the first of a league imposed 2 game match suspension, head Coach Chad Rakestraw was left to watch the game from the stands, while assistant coach Ben Clarvis stepped into the manager's role.
The Diablos wasted little time settling in to their trademark high pressure attacking style, creating their first shot on goal within the first minute of play. It would take 20 minutes before the Laredo Heat allowed the first goal of the match, with Chase Drackett tucking away the low driven shot from inside the Heat penalty area, good for his second goal on the year.
After another spirited 25 minutes of play, the Diablos took a 1-0 lead into halftime to regroup and prepare.
The wise words of Ben Clarvis wasted no time in providing their effect, as the Diablos came out in the second half with the same intensity that saw them open the game with, result of which, was a Jalen James goal in the 50th minute for the 2-0 lead.
Laredo would answer the call just 5 minutes later, cutting the deficit in half at 2-1 in the 54th minute.
With plenty of closing opportunities for the third and decisive goal in the final 20 minutes of play, the Diablos were able to hold the Heat at bay and see the victory out to the final whistle.
While every game in your inaugural season is historic in many aspects, this win by the Diablos in Laredo was truly historic for both teams. The Diablos are the first team to ever win a NPSL conference match in Laredo, ever. Quite an accomplishment for a young team still finding their form early in the season.
The Diablos next game is a home match vs Katy 1895 FC tomorrow, Sunday May 26th, at UNT Soccer Stadium.
We look forward to seeing you at our next home match!. Tickets are on sale now!
#SomosDiablos
#SomosDenton