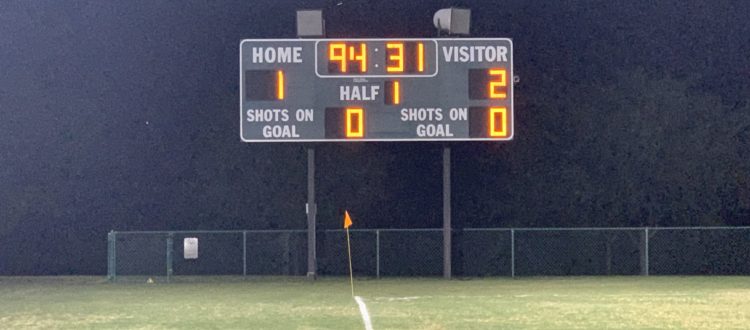 Match Recap: Denton Diablos outlast Dallas City
On a beautiful Friday evening, the Denton Diablos ventured out from the friendly confines of Denton, and headed east to McKinney to face off against Dallas City FC for the second time this season.
With the Harbingers in full support with flags flying and drum beats filling the air, the game opened franticly, with both sides looking sloppy early before settling down 15 minutes in. After controlling the run of play and setting the tone early with their high pressure attack minded soccer, the Diablos were able to open up the scoring in the 30th minute when Jalen James was able to slip in behind the defense after a nice through ball from Wyatt Priest, cooly tucking away his shot for the 1-0 lead.
Dallas City wasted no time posting their response, coming back in the 31st minute with a great individual effort by Malik Key as he carved through the heart of the midfield and defense and bury a low shot in the far corner, equalizing almost immediately. Both sides created opportunities in the rest of the first half, but ended the first 45 minutes knotted at one.
The second half saw the same high pressure attack minded football produce opportunity after opportunity, before the Diablos were finally rewarded for their efforts, when Giovanni MontesDeOca scored his 1st goal of the season, in his first game with the Diablos, with a pretty chip shot from nearly 40 yards out, catching the keeper off his line, and scoring what would turn out to be the game winner in the 70th minute.
With a flurry of yellow cards and dangerous plays on both sides, the remaining 20 minutes was action packed, with both sides ending the game collecting 4 yellow cards, and plenty of knocks and bruises. But more importantly, your Diablos headed back to Denton proud owner of a hard won 3 points, bouncing back from the disappointments in Fort Worth and showing tremendous character and resolve in the process.
The win takes the Diablos to 4-2 on the season as we finish the first half of the season. There's no rest for the weary though, as the Diablos turn around and play again tonight, June 8th, against Tyler FC.
Get your tickets now at dentondiablos.com/tickets and we'll see you tonight at the game!

#SomosDiablos
#SomosDenton