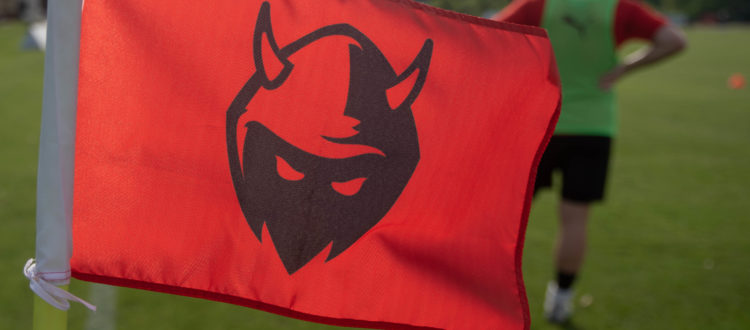 Match Recap – Denton Diablos Fall to Fort Worth Vaqueros
The anticipation was palpable, and while it certainly felt like there was electricity in the air, the multiple weather delays for lightening reminded us that there was a lot of literal electricity in the air as well.
After dropping the opening leg of the Chisholm Trail Clasico 4-3, the Diablos had lofty ambitions in traveling to Farrington Field in Fort Worth for the return leg of this historic derby. And in keeping with the trend this spring/early summer, the star of the nights show would be mother nature. A round of early storms ended up pushing the 7pm scheduled kickoff back to 8:15. With a break in the skies, and a good crowd in attendance, the Diablos finally kicked things off and got the action underway.
With so much on the line, both sides came out strong and ready to play, with several good scoring opportunities created in the first half. Ultimately though, the defense of both teams proved too tough to break through, and we retired to halftime leveled at zero, with a scoreless first 45 minutes.
After a brief halftime we got things underway, along with our first lightning delay of the evening. After waiting the requisite 30 minutes, the Diablos returned to action in the 59th minute and wasted no time in creating a chance inside the box, that would up earning the foul call and subsequent penalty kick. Nicholas Taylor stepped up and calmly slotted home the PK giving the Diablos a 1-0 lead in the 61st minute before breaking for our 2nd lightening delay of the game.
After another 3o minute delay, we resumed play in the 62 minute. Fort Worth seemingly took advantage of the multiple weather delays to regroup, and following a defensive miscue, equalized in the 66th minute. Just 4 minutes later, Declan O'Shea connected on a headed clearance and sent a laser beam into the upper right hand corner from about 30 yards out, securing the 2-1 lead. Jamie Lovegrove and the Vaqueros would have the last word, scoring the clinching goal in the 80th minute off a first time shot.
The 3-1 lead proved too much to come back from and cemented Fort Worth's status as winners of the inaugural Chisholm Trail Clásico.
The loss dropped our record to 3-2 in conference play, with our next game on the road next Friday against Dallas City.
Our next home game is June 8th against Tyler FC at 7:00.
For tickets, visit: dentondiablos.com/tickets
#SomosDiablos