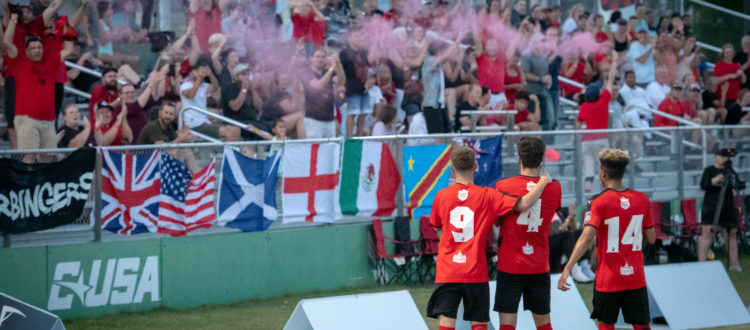 Diablos Fall in Lone Star Conference Semi-Final
After 120 minutes of end to end action, the Denton Diablos fell to the Fort Worth Vaqueros after 8 round of penalties were needed to decide the winner.
The Diablos opened the scoring in the 9th minute off a Blake Willis goal, watching multiple first half chances go un cashed in. The Diablos took their 1-0 lead into the halftime break. The Vaqueros wasted no time in the 2nd half, coming out strong from the start and pouring on the pressure. They were rewarded in the 55′ minute when Kalle Masue found himself on the end of a well served and slotted home the equalizer.
The game took on a frantic and hectic pace for the remaining 35 minutes, and carried over the break neck pace through two 15 minute over time periods.
With 120 minutes behind them, the two teams moved to penalties to decide the game. With multiple chances to put the game away, it was the Vaqueros who finally sealed the game winner on their 8th penalty shot, when the Diablos 8th players shot was saved by the Fort Worth goal keeper.
The Lonestar Man of the Match for the Diablos was Estevan Vazquez, the Diablos starting goal keeper, who made huge save after huge save, single handedly keeping the Diablos in the game multiple times in the second half.
We wish the Vaqueros the best of luck as they will face Midland-Odessa on Saturday in Midland for the Lone Star Conference Championship.