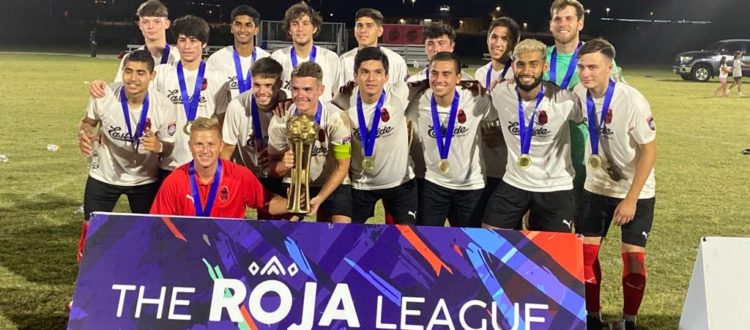 Oh 2020….What a wild strange trip you have been.
In March of this year the NPSL decided to cancel the 2020 NPSL season leaving nearly 100 teams across the country with dismal hopes for playing soccer during this pandemic.
Where there is a will, there is a way, and for our intrepid co-owners, one door closing, means an opportunity for another door to open!
After working for nearly two months, the Roja League was finally born and approved in late June, with the opening weekend triple header held at Texas Weslyan University on Friday July 3rd.
After 6 action packed weeks of soccer, the Denton Diablos and our newest team, Estudiantes, found themselves both qualified for the Roja League Playoffs, with Estudiantes securing a 2nd place seed, and the Diablos securing the 4th place seed.
After a thrilling set of semi-finals, both our teams qualified for the the Roja League Finals, setting up a historic and dream scenario of Diablos vs Estudiantes in the inaugural Roja League Championship!
After a hard fought battle, that saw goal scoring action from end to end for 90 minutes, the young Estudiantes team was able to claw out a deserved win and crown themselves Roja League Champions!