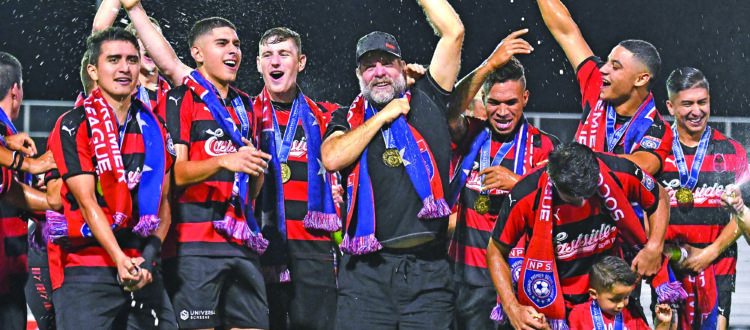 Diablos Head Coach Ramon Raya Returns For Another Season
The Denton Diablos had a magical 2021 National Premier League Soccer season, hoisting the national championship trophy after a 5-2 victory over Tulsa Athletic in front of their hometown fans in August.
In command of the surging Diablos squad is head coach Ramon Raya and he is returning for another season in hopes of leading Denton back to NPSL greatness.
"The most important thing the club could do this offseason was find a way to entice Ramon back for another campaign and shot at glory," Diablos co-owner Damon Gochneaur said. "He's a club legend already, so anytime you can add chapters to the already rich story of someone like Ramon, you are fortunate."
Raya said coming back for another season as Diablos head coach means a lot to him, especially because he gets to continue doing what he loves — coaching soccer.
"I'm starting a path here in the states and I'm kind of new here in the country," Raya said. "Not everyone knows about me. I just want to have a chance to coach and grow. I understand that being a champion that the bar is much higher. We have to honor those expectations and we need to get that commitment."
Those increased expectations bring additional pressure for the Diablos and Raya, but he said last season is in the past and this season will be filled with its own challenges and hurdles.
"I'm starting again with a different perspective and different expectations and different responsibilities," Raya said. "I'm always thinking about growing. There's always a challenge. For me, the Diablos are my first chance in this country. I told the team that once you're a Diablo, you're always a Diablo."
The Diablos will surely have a target on their back in the NPSL and the Lone Star Conference, where they suffered just one loss on the season.
Raya knows this season will test his team in unique ways.
"When you're a champion, you know everything is going to be hard next year," Raya said. "I might have players with more experience that know how to win, but they could lose motivation. The other teams also know you're the champion so they want to beat you even more than they did last year. I'm used to that and I like that."
Aside from the game of soccer, coaching the Diablos means more to Raya because it allows him to be with his family.
"My family was living here and I was traveling around the world when I was on the Mexican National Team and I was lucky to see my kids grow," Raya said. "Spending that much time traveling, it was time to find something here. I didn't know anybody or how the game was structured or how hard it is to get players to commit at this level. It's a new adventure for me. I always have to adapt to things at this level. For me, soccer is a big part of my life and to be closer to my family is a big reason I'm here."
The Diablos are set to play in their first 2022 Lamar Hunt U.S. Open Cup when they host the D'Feeters Kicks Soccer Club on March 22, at 7:30 p.m. at the University of North Texas Soccer and Track & Field Stadium.
Gochneaur said with Raya leading a rebuilding Diablos squad, the team is in good position to make noise against some tough competition.
"I've said it before, and I'll say it again, Ramon Raya is one of the brightest soccer minds I have ever been around and no one has the ability to win games like Ramon," Gochneaur said. "We are fortunate to have what I feel is the absolute best coach in all of NPSL and probably at levels of the United Soccer League too. There is no one better to lead this club into their first U.S. Open Cup."