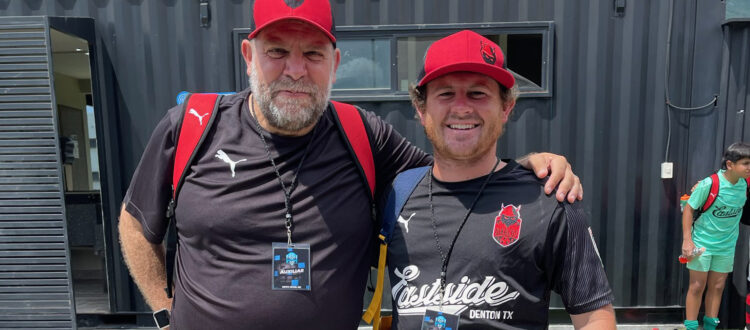 Diablos Announce Matt Pittcock As Assistant Coach
The Denton Diablos have a new assistant coach as Matt Pitcock was hired in January to head coach Ramon Raya's staff.
Pitcock has a wealth of soccer experience as he spent four years playing at Hardin-Simmons University and returned as a graduate assist for two years before being hired as an assistant head coach — the position he's held there the past four years.
The 30-year-old Pitcock said being hired by co-owner Damon Gochneaur and Raya was an honor and he looks forward to soaking in even more knowledge from them.
"I've learned a lot in a short period of time from Ramon and I love Damon's passion for the club," Pitcock said. "Getting the opportunity to learn from Ramon on a day-to-day basis was important. I'm honored that Damon and Ramon wanted to include me and I want people to believe in the project, so I'm excited to work with both of them because they believe in it so much."
Raya said PItcock's inquisitive nature and view on the game of soccer will be a great addition to the Diablos.
"I knew he was a smart guy that knows and understands the game tactically," Raya said. "It's not just about the concepts, but it's about applying them in game. Matt doesn't have an ego. He was humble enough to ask questions. A lot of people have their own points of view and they don't care about yours. Of course, it's going to be good for him and it's going to be good for me."
Pitcock was recently named as one of the top 30 United Soccer Coaches under 30 years old and Gochneaur said getting to know Pitcock and his soccer reputation made him an excellent addition to the coaching staff.
"Matt helped connect us with some players in the past and after being a part of an international experience with our youth academy, he and Ramon formed an excellent working relationship and mutual respect," Gochneaur said. "When we started looking at potential candidates for our 2022 campaign, the shortlist for the club was pretty small and Matt's name kept coming up."
More than Pitcock's experience as a player and coach, Gochneaur said he fits perfectly into the Diablos' winning culture.
"Culture is the heart of the club's success," Gochneaur said. "it was an easy decision that he would be a valuable addition to the club. We're super excited to have him on staff with Ramon and to arm the best head coach in all of the NPSL. We think he may very well be the best assistant coach in all of NPSL as well."
Pitcock immediately shoulders the pressure of the Diablos' National Premier League Soccer national championship last season and knows his attitude has to match the expectations for this season.
"Everyone is going to want to beat you and give you their best game," Pitcock said. "No game is going to be easy. It's going to take a lot of hard work and preparation. There are some new teams coming into the [Lone Star Conference] and talking with a few other assistant coaches in the conference, everyone is trying to create the most competitive team they can for the summer."
The Diablos have been hard at work preparing for the 2022 Lamar Hunt U.S. Open Cup. Denton will host the D'Feeters Kicks Soccer Club on March 22, at 7:30 p.m. at the University of North Texas Soccer and Track & Field Stadium.
Pitcock knows this is a crucial tournament for the Diablos for several reasons and that their opening opponent will be a strong test.
"Anyone involved with soccer knows how historic the Open Cup is," Pitcock said. "We have to focus on what's at stake right now and that's DKSC. We've been able to see some players in different roles and different formations as we prepare for Tuesday night."