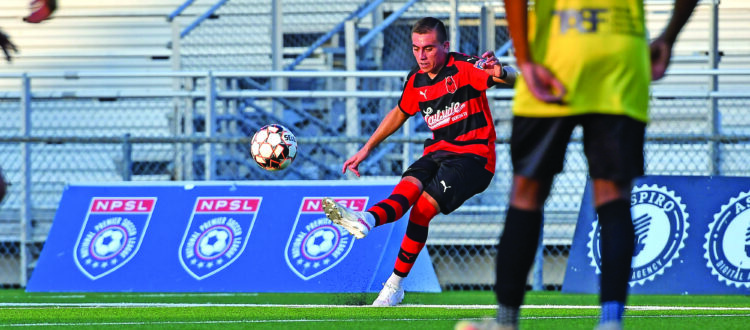 Diablos Set To Play In Lamar Hunt U.S. Open Cup
The Denton Diablos are finally getting their time in the 2022 Lamar Hunt U.S. Open Cup spotlight.
The Diablos looked to have punched their ticket to the coveted tournament the previous two years as they qualified for the U.S. Open Cup in 2020 and 2021, however, they were canceled due to the COVID-19 pandemic.
After winning the National Premier Soccer League championship in August in front of their hometown fans, the Diablos will get another chance to host a special game as they will face the D'Feeters Kicks Soccer Club on Tuesday, March 22, at 7:30 p.m. at the University of North Texas Soccer and Track & Field Stadium.
Diablos co-owner Damon Gochneaur said the opportunity to play in such a prestigious tournament isn't one the team takes lightly.
"We are thrilled at the chance to bring the most historic soccer tournament in all of North America to Denton and showcase the amazing facilities, raucous crowd and beautiful soccer we expect to see played."
Head coach Ramon Raya, who is back at the helm after leading his team to a 13-1-1 record in just its second season in the NPSL, knows playing on the big stage is important for several reasons.
"There are players that have dreams and playing in the Open Cup should be one of them," Raya said. "If you win and advance, you can play at higher levels and see if you're good enough. For me, it's a big honor because we have a responsibility. We're representing the entire NPSL and as a champion, that means more responsibility. I've been talking to the players about that and we have to continue to do things as good or better than we did last year."
Some of the growing pains of being a national champion are the changes in the roster. Many key players took the next step in their careers with opportunities at other levels, but Gochneaur said he is still confident the group they have will rise to the occasion.
"With many of our college players not available due to NCAA regulations, we've definitely had to be diligent and strategic in our roster development," Gochneaur said. "With that being said, we return some key pieces from our national championship run and expect to field a very competitive team that I have full confidence in to do the task at hand."
Because of some of that roster turnover, Raya said the team is still finding its chemistry. In light of those changes, Raya said there are plenty of roles and responsibility for players to grasp.
"I wish I could say we had some friendly games to figure out our roster, but that's not an excuse though," Raya said. "You think you can complete for a spot on the Diablos? Now you have a chance to do it in a very important game."
The Diablos do have some history with DKSC and Gochneaur knows every opponent they face will be a stiff test.
"No game in the U.S. Open Cup is easy," Gochneaur said. "Having played DKSC in past Roja leagues, and lifted trophies against them, we have every reason to be confident that we can make an equally deep run into the U.S. Open Cup as we did in last summer's NPSL national championship campaign."
Raya echoed Gochneaur's respect for DKSC and said that each game the Diablos play will be their toughest.
"DKSC has some professional players that play for the Dallas Sidekicks," Raya said. "For the club, the players and me, it's a great opportunity to show yourself and play against guys in a higher level."
If the Diablos can advance, the second round will begin April 5 with the third round set to start April 19.
While the mountain to climb is lofty, Gochneaur said even winning one game would mean a ton for team. Still, the Diablos have their sights set high, regardless of the difficult competition.
"Success, no matter how seemingly small or inconsequential, is reason to be celebrated for a club at our level," Gochneaur said. "Winning one game would be huge for the club, but it would only be one small step towards where we want to ultimately go in this tournament. Having achieved so many of the club's dreams already in just our second NPSL season, I have no doubts that we'll continue to surpass our humble expectations and desires as we focus on the process, the journey and the task at hand day by day."