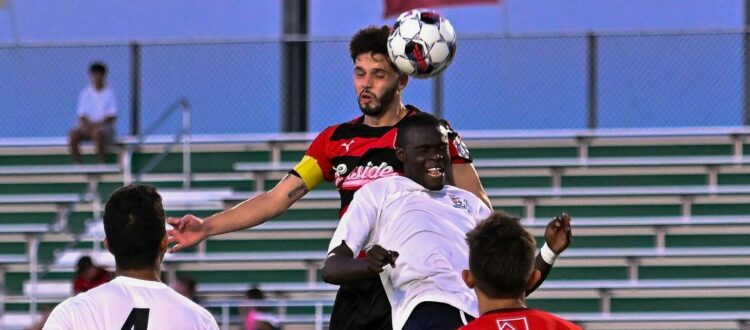 Denton Diablos Take Down CF10 Houston FC with 2-0 Shutout
Denton Diablos head coach Ramon Raya had mixed thoughts after their 2-0 shutout victory over CF10 Houston FC on Saturday, June 11, at the North Texas Soccer and Track & Field Stadium. Of course he was happy about the win and the clean sheet, but as the Diablos continue to discover themselves early in the season, their play still has strides to take.
The Diablos clearly have more potential to unleash as they attempt to defend their National Premier Soccer League National Championship trophy they hoisted in 2021's magical run.
"We won and we had a thousand chances, but we weren't playing well with our possession, which is supposed to be our strength," Raya said. "We need to improve a lot and work hard."
The Diablos moved to 4-1-1 on the season (13 points) in the NPSL with the win, but they couldn't string together the waves of pressure they've seen when the team is really rolling. After they were unable to capitalize on their offensive chances in the first half, the Diablos' offense came to life at a pivotal moment as Julian Barajas's goal late in stoppage time gave Denton the one-goal lead headed to halftime.
"That [first-half] goal changes everything," Raya said. "Instead of starting the second half tied and them having to play on their back, we had to push a little bit more. For some reason, we're not playing as we should and we need to work more. That's the only way. There are no secrets in this game. It's about working more."
The Diablos weren't without their shots in the first half. Unfortunately, the majority of them couldn't find their way on goal. Denton earned several first-half corners, but no elite threats we created off them. The Diablos' defense did its share of neutralizing the Houston FC offense as well as a key slide tackle from a Denton defender on a Houston breakaway kept the game scoreless in the 28th minute.
Denton did find the target more in the latter stages of the first half, but Houston's goalie was in great position for all of the Diablos' threats.
Finally, Denton struck gold as Brock Pope made a run down to the right post and slid a slick, low pass to the driving Barajas, who quickly launched his shot into the bottom-left corner of the goal past a diving Houston FC keeper.
It didn't take long for the Diablos to land the haymaker. Just two minutes into the second half, it was Pope that took center stage this time. After setting up Barajas for the first goal, Pope tracked down a rebound in the box and headed a shot down and inside the left post past the sprawling Houston keeper to give Denton the 2-0 advantage and a key insurance goal.
"I'm happy he scored because it's about confidence and scoring a goal and playing better helps, even if for a little bit," Raya said.
Despite the important goal, Raya said he felt the team settled the rest the game and would have liked to have seen them stay on the attack.
"We scored right away, but instead of using that goal for good, we decided to play slower and of course that second goal affected us," Raya said. "Winning is always good, but I didn't like the performance."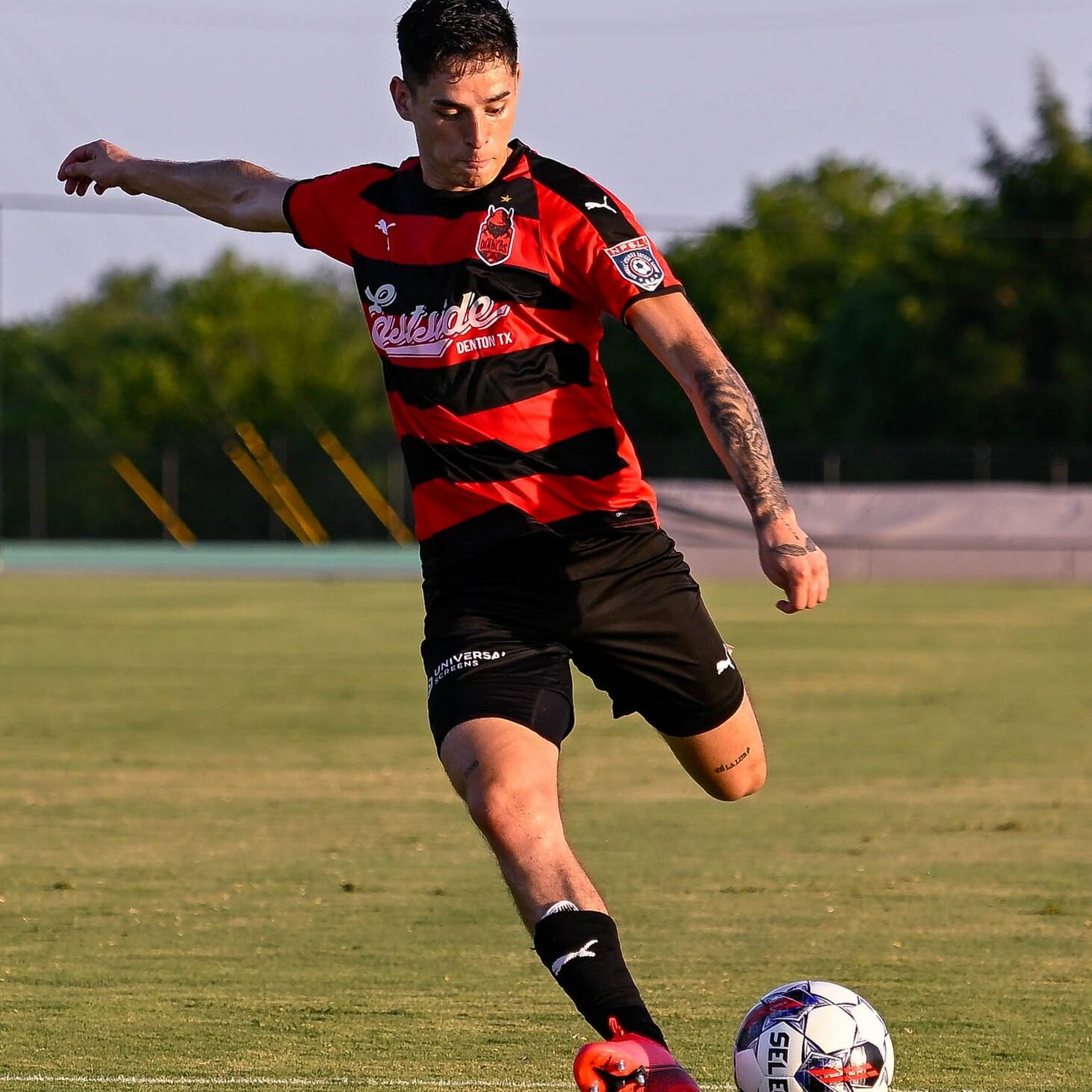 Down and desperate, Houston kept on its counterattack, but the Diablos stayed in good position in the second half. When they were slightly out of position, they leaned on accurate slide tackles to get themselves out of trouble. Houston FC (1-4-2, 5 points) managed a corner in the 69th minute, but its header sailed over the crossbar. 
Denton nearly had an answer to Houston FC's push as Brandon Credo nearly made it 3-0 when he ripped a bending shot from just outside the top of the box. His bid was labeled into the top-left corner, but was saved by the fingertips of Houston's diving keeper in the 82nd minute.
When Houston did conjure an effective counterattack, Denton goalkeeper Connor Pettigrew was there with a sturdy positional save.
Raya said Pettigrew has taken advantage of the [starting-goalie] opportunity he's been asking for.
"He asked for a chance and I told him that if he wanted to play that he needed to work harder and he has done that," Raya said. "He had a chance to start and he did well, but he could have done better. That's me and I'm demanding. It's not about giving up goals. It's about reading the build-up, participating, moving the defenders and helping on the organization. It's a lot of things."
The Diablos' next game will be a big one as they head out on the road for the second leg of the Chisholm Trail Clasico against Fort Worth Vaqueros FC. Denton took the first leg resoundingly with a 3-0 shutout on Saturday, May 21.
"It's a Clasico, so those games are different than regular games," Raya said. "We've won a couple of them and we need to continue with that and start improving because if we keep winning and we make the playoffs, we are going to play the hardest teams in the conference. If we have a performance that isn't as good as I'd want like we did tonight, we're going to struggle."