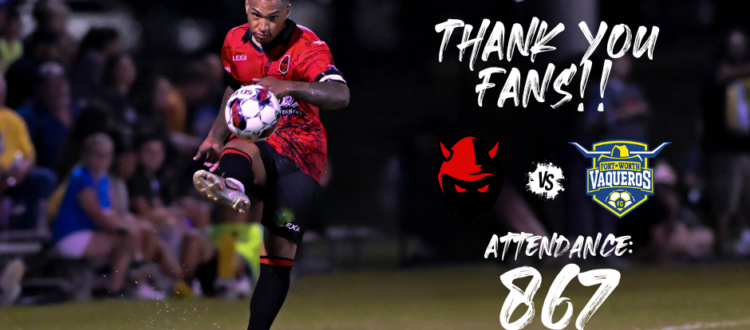 Diablos Victorious in Season Opener vs Vaqueros
In spite of the storm warnings and weather predictions, the 2023 NPSL Lone Star Conference seaosn kicked off under a beautiful May Texas sky, with a light breeze and some cloud cover providing the ideal climate for a beautiful backdrop that is Texas Woman's University Pioneer Soccer Park, where a historic crowd witnessed our season opener. Official attendance was announced at 867 fans, setting a regular season, and season opener record for home attendance!
And the energetic crowd don't have to waiting to see the game get interesting. In the 10th minute, despite not seeing much of possession in the opening few minutes, Alex Masbruch broke free down the right hand side, and delivered a tantalizing ball across, that was redirected to Aubrey Eason who took a settling touch, before exploding into space, and diving home the low shot into the corner good for the Diablos 1-0 lead! Alex and Aubrey both made their Diablos debut this evening, stamping their names in the history books in multiple ways.
Both teams battled evenly the remainder of the first half, with good chances going both ways.
But it would be Aubrey Eason who added to his goal tally, grabbing the brace in the 70th minute after taking his man 1 on 1, leaving the poor gents ankles a little wobbly, before cutting back to his thunderous right foot, and blistering home the brace into the roof of the goal, and sending the Diablos faithful into euphoria.
Just 20 minutes later, and Kyle Parks, also making his Diablos debut, collected his first ever clean sheet, and the Diablos secured the season opening win, as well as leg 1 of the Chisholm trail Clasico!
Head Coach Armando Pelaez had this to say afterwards: "It was a very good game, I'm very pleased with my squad, they did everything that I asked for and each one of them was very valuable."
Your Diablos are off next weekend before we resume play on May 20th at home vs San Antonio Corinthians at beautiful Texas Woman's University, tickets available on our website.