Diablos Home Goal Keeper Jersey 2023 Adult
$65.00
2023 Denton Diablos Home Goal Keeper Jersey in Blue and Pink by Lexa.
Description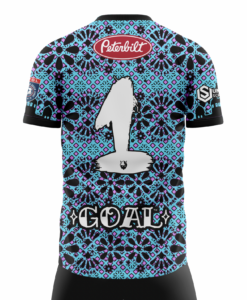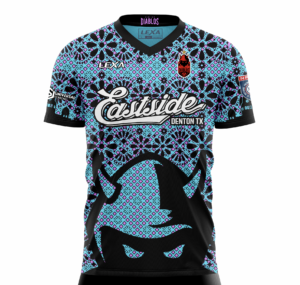 Inspired by the sugar skull designs ubiquitous to the Day of the Dead festival so popular and celebrated in Denton, our 2023 Home and Away Goalkeeper kits are some of the most unique and eye-catching jerseys in all of soccer. The sleeves pay tribute to the most iconic building in all of Denton county, the historic Courthouse on the Square. Featuring our title sponsor Eastside across the chest, Universal Screens on the right sleeve, the NPSL badge on the left sleeve, the internationally recognized Peterbilt logo on the upper rear of the jersey, and our 2023 Community partner GOAL on the lower rear of the jersey, while the ever present and menacing diablos head adorns the lower front of the jersey. These jerseys were custom designed in not only the aestethics, but with regards to fit, material, and performance with the experts at Lexa, helping to achieve a jersey that not only will help our players stay cool and comfortable through the hot action of summer, but also looks better than anything on the market, while utilizing recycled materials and sustainable processes wherever possible.
We are immensely proud to bring you our iconic and long awaited 2023 Denton Diablos Home Goal Keeper jersey in the striking Blue and Purple design.
On sale and available to ship immediately!