Diablos Home Jersey 2023 Adult
$65.00
Description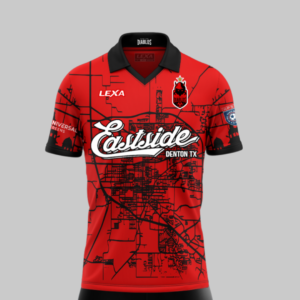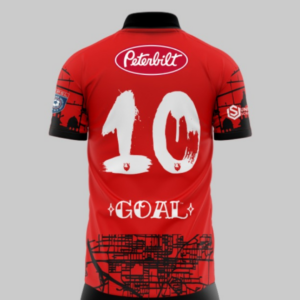 We helped put Denton on the National Soccer Map in 2021 with our NPSL National Championship, so what better way to pay tribute to our Community than putting Denton on our backs, and our chests, with our custom Community kit, featuring the street map of Denton overlaid our iconic Diablos Red. The sleeves pay tribute to the most iconic building in all of Denton county, the historic Courthouse on the Square. Featuring our title sponsor Eastside across the chest, Universal Screens on the right sleeve, the NPSL badge on the left sleeve, the internationally recognized Peterbilt logo on the upper rear of the jersey, and our 2023 Community partner GOAL on the lower rear of the jersey. These jerseys were custom designed in not only the aestethics, but with regards to fit, material, and performance with the experts at Lexa, helping to achieve a jersey that not only will help our players stay cool and comfortable through the hot action of summer, but also looks better than anything on the market, while utilizing recycled materials and sustainable processes wherever possible.
We are immensely proud to bring you our iconic and long awaited 2023 Denton Diablos Community jersey in our trademark color way of red and black.
Pre-sale now for anticipated delivery in 3-4 weeks. When jerseys are available, they will either be shipped or available for pickup at home games, as arranged via email upon jerseys arrival.