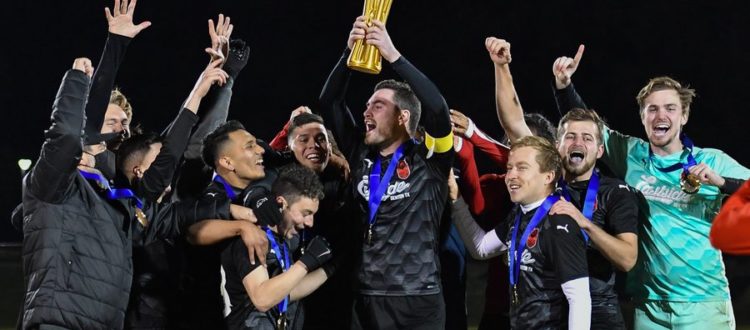 Diablos win the Roja Invierno!!!
After an exciting and action packed Roja League Invierno season, the Diablos vanquished their demons and hoisted the first trophy won by our first team, defeating FC Harrington 2-0 on a cold January evening in beautiful Denton, Texas.
With the Diablos and Estudiantes finishing second and third, respectively, in the league standings, our two teams found themselves facing each other for the 4th time in the past two years, the second Roja league playoff matchup after the teams met against each other in the Roja League Summer Championship, with Estudiantes taking the Summer Championship title. After a hard fought and tense 90 minutes of soccer, the Diablos were able to advance thanks to a dramatic finish requiring penalty kicks before a winner could ultimately be crowned, and move on to the Invierno championship.
Capping off his historic first season as head coach, Ramon Raya cemented his place in club history "I'm extremely proud of our players and their commitment this season. We wanted to use this winter season to get ourselves in shape and ready for the upcoming US Open Cup run, and I felt like we accomplished everything we set out to when we began this season in October."
Stay tuned for our upcoming announcements regarding our 2021 NPSL season and our plans for the 2021 US Open Cup!